Welcome to the first installment of The Gallery Journal!  Whenever you see a post of this nature on the Chiaroscuro website, click for insider information on gallery updates, new arrivals, artist techniques, and the occasional musing on contemporary style, composition, and trends.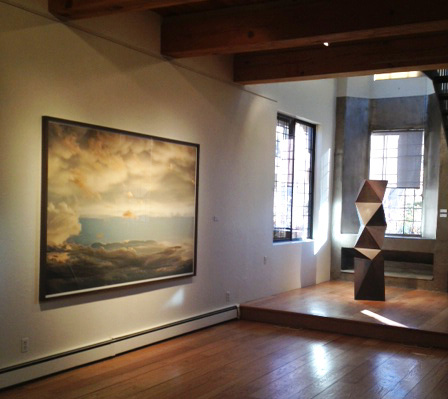 This week we enter the final round of our Revolving Winter Group Show.   We recently re-hung both gallery spaces on Gypsy Alley to display a regal sweep of large-scale photography by Renate Aller juxtaposed with the contemporary abstraction of sculptor Peter Millett and Navajo painter Emmi Whitehorse.  We've included two newly arrived prints from Swiss-born photographer Irene Kung.  Albero Neve evokes the serenity of a snowy winter evening, while Palma Rosa's warm hues bring to mind the not-so-distant seasons of spring and summer.
An energetic, tribal feel unites the front room in our main space.  We've mixed the totem-like spirit poles of Louisiana-born artist John Geldersma with the bright acrylic and earth pigments of paintings from our second biennial exhibition Australian Contemporary Indigenous Art II in July 2012.
Our Revolving Winter Group Show is a great chance to experience a unique, aesthetic arrangement of a variety of works in our two beautiful Canyon Road spaces.  Please join us to jump start a new year destined to be full of exciting exhibitions!  Check out our 2013 schedule here as we continue to fill in the details.