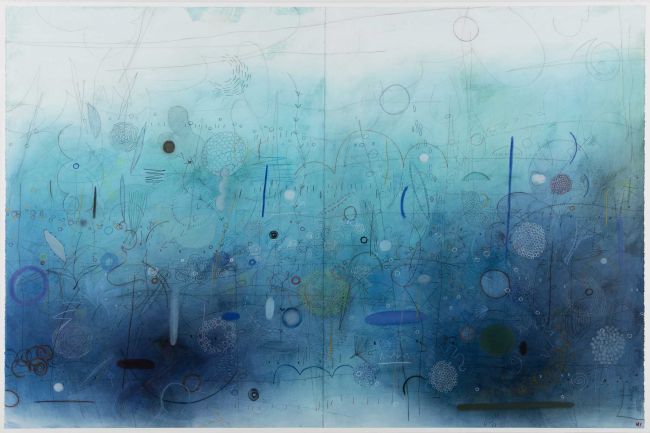 About the Artist
The abstract canvases of Emmi Whitehorse (Navajo) depict layers of markings, lines and shapes interwoven in fields of blended color. Not purely abstract, her paintings suggest landscapes with firmaments, the lines between them softly blurred.

Whitehorse states "As an artist I have intentionally avoided politically oriented subject matter and angst-ridden or physical wrestling with the act of painting itself. To make art, the act of making art must stay true to a harmonious balance of beauty, nature, humanity and the whole universe. This is in accordance with Navajo philosophy. I have chosen to focus on nature, on landscape. My paintings tell the story of knowing land over time - of being completely, micro-cosmically within a place. I am defining a particular space, describing a particular place. They are purposefully meditative and mean to be seen slowly. The intricate language of symbols refer to specific plants, people and experiences."

Chiaroscuro is Whitehorse's "hometown" gallery and tries to keep a complete inventory of her most recent work on hand. Please contact the gallery for information about upcoming work not yet posted on this website.