Work Details
Spatial Dialogue 1
2022
Acrylic on linen
41 X 30 inches
Inventory ID: #16796
About Siddiq Khan
We are pleased to present these three new paintings (April 2022) from Siddiq Kahn, as the first pieces in his current "Spatial Dialogue Series."
Artist Statement : "I seek to find a balance in art and life. I start with figure drawing, spontaneous gestures, overlapping lines, and a flow from the eye to the hand. These linear markings become an investigation that translates observations and thoughts into visual possibilities: fragments of discovery, beginning and ending, yet continuous.
The creative flow then continues, these drawings are cut up, fragmented and collaged on canvas. Lines are painted over, inserted within geometric compositions. Color is applied and reapplied in a process creating a rich density, sometimes making each layer transparent to the layer underneath. The result is a surface balanced between tension and harmony, abstracted yet informed by figurative sources." --Siddiq Khan
Siddiq Khan was born in Guyana and raised in Canada and London. He received a Diploma of Fine Art at the Byam Shaw School of Art in London and continued studying at the Pratt Institute of Art and Design, Brooklyn, NY, and College of Santa Fe, NM.
Siddiq Khan is a versatile artist who works with ceramic sculpture, drawing and painting. Layering and attention to surface characterize both his two-dimensional and three-dimensional works. In Khan's recent paintings, he deconstructs figurative drawings on paper and reassembles them on canvas. He then works and reworks the imagery into abstraction by painting over the collaged drawings, thus disfiguring or transfiguring the figure. As he states, " I start with drawing.These linear markings become an investigation that translates observations and thoughts into visual possibilities: fragments of discovery,beginning and ending, yet continuous." Ultimately, a geometric structure--usually in the form of a circle or grid--comes to define his compositions."
Similarly, Khan's ceramic sculptures employ glazes, acrylic paints and incising to create rich and complex textures on the overlaid surfaces of the geometric clay forms. Despite the numerous layers, in both paintings and sculptures, the layering actually serves to simplify the overall effect of the work by creating a geometric substructure that, as Khan explains," imposes a visual logic, paradoxically clarifying and obscuring the underlying images."
Laura Addison, former curator, Museum of Art Fine, Santa Fe NM
All Works by Siddiq Khan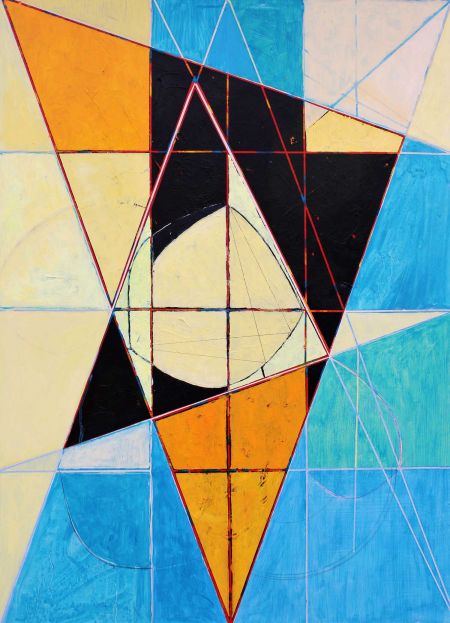 Spatial Dialogue 1
2022
Acrylic on linen
41 X 30 inches
Inventory ID: #16796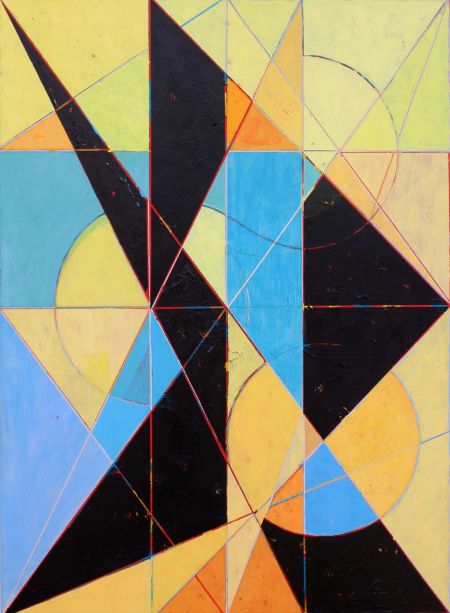 Spatial Dialogue 2
2022
Acrylic on linen
41 X 30 inches
Inventory ID: #16797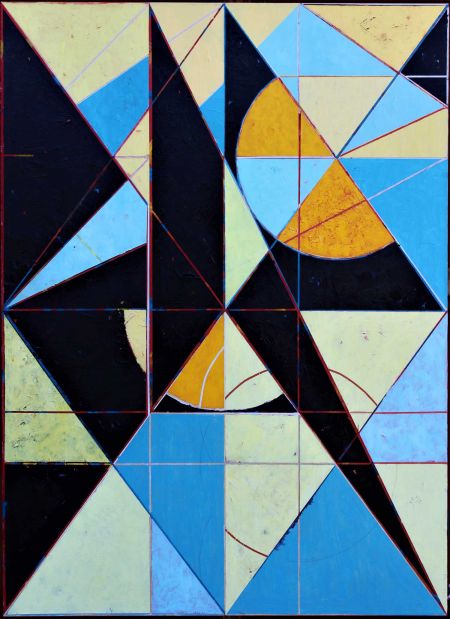 Spatial Dialogue 3
2022
Acrylic on linen
41 X 30 inches
Inventory ID: #16798