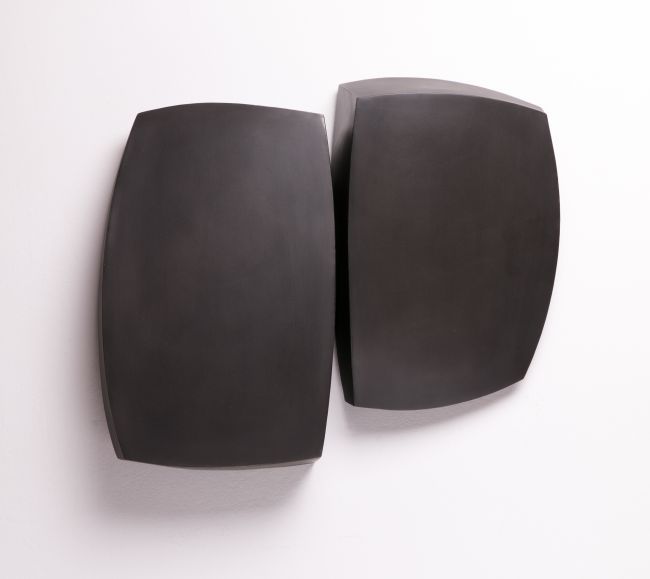 About the Artist
Penny Truitt: Intersect

Intersect, Truitt's most recent body of work, brings together her mastery of ceramic sculpture with her newly inspired work with welded steel. In this artwork the two materials function in unison, building an abstract narrative about walls, boundaries, and architecture. Truitt explains, "I think there's a dichotomy between natural formations and manmade formations. So I moved from creating abstract landscapes with clay, to more architectural pieces that reference remnants of manmade structures with metal – particularly walls. Since I live adjacent to the US/Mexico border my attention has been drawn to the futility of the walls that are being constructed – and the futility of the position the government holds. For me, somehow this is a juxtaposition to put in place and work through in my sculpture."

Also of importance to Truitt are the use of line and texture with both materials. The fluidity of ceramics lends itself to soft flowing lines, while the sharp angularity and cuts off steel form an opposing line. Both work together to reveal the conceptual content and physical form of the pieces.

Beginning in 2010, Truitt presented work addressing the issue of boundaries, encompassing Border walls, obstructions and impositions. Six years later, this theme prevails. Current work combining clay and steel, expands on these concerns. Truitt explains, "Clay, when fired, is impermeable to time and the elements. Steel, by its nature, gradually disintegrates, leaving only a trace. Paradoxically, we create both a temporary and lasting record on the landscape and in our collective memory."


Penny Truitt: Relics/Reminders Artist Statement

Land formations which suggest a connection to architecture have always drawn my attention, in particular the abrupt convergence of edge and space. Some of my current sculptures, composed of two or more elements, allow various juxtapositions that suggest shifts of perception and relationship, depending on the arrangement. Allusion to man-made formations (i.e. barriers and walls) can be found in this series.

I observe these formations on the land eventually disintegrating, though designed to last for eternity, reflecting societal goals firmly set in recorded history. Ruins are revered as monuments to celebrate that fervor for permanence. These sculptures are an attempt to embody the intention of permanence and the futility of that pursuit.

Patterns imprinted on the land are traces of exploration, displacement, and resettlement. Some surfaces are in response to those traces – evidence that also exposes out history and presence.