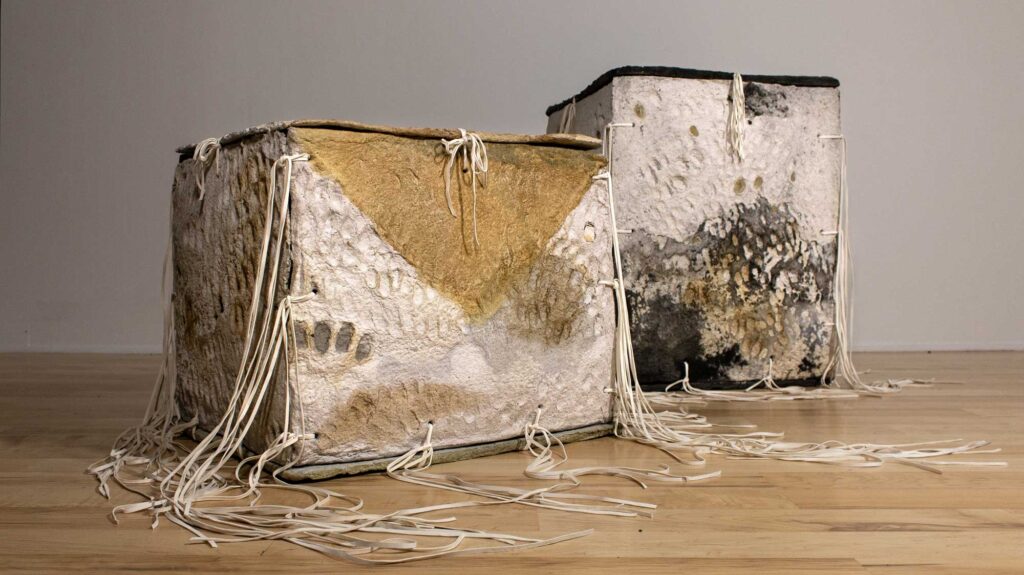 This new body of work, On the Back Road, is an intimate exploration of personal narratives filled with curiosity, imbued with Indigenous intimacies and transformed materials. The work started with a humble source of paper scraps gathered by my mother and shipped to me from Pine Ridge. The discarded fragments repurposed into a medium carries the narratives that arise as I'm traveling and living in new spaces. Each piece of work, whether it's the sculptural forms or the flat works, is built through layers of this hand-made paper, dyed with natural elements like sweet grass, ash, and India ink.
The layers are not just a physical attribute; they symbolize time, stories, experiences like the elements deeply embedded in each of us. They represent identity, presence, and the touch we leave on everything we come across. They reflect our intimate interactions with the world around us. The intentional imprints follow the rough landscapes we travel, both literal and metaphorical, on our back roads. In the pieces, The Old Place by #4 and Wealthy in Pine Ridge, I trace personal and geographical histories. These are places often referred to by my family members when telling good stories and how I feel when I'm home. Through the works, Smells like sweet grasses, and Waiting for them to Call My Name, I explore the concepts of containers, holding space for history, Identity and anticipation of the future. Each fingerprint, a mark of the past, a trace of the present, a direction towards the future.
The transformative power of repurposing materials from my environment plays a significant role in my work. I've discovered that my printmaking background significantly influences this process. Each stroke, each etch, each laser cut resonates with the pressure, rhythm, and intent of beadwork and quillwork patterns, traditional Lakota art forms that I've learned and practiced. The journey presented in On the Back Road is a testament to healing, growth, and renewal. It invites viewers to navigate the sculptural landscapes, engage with the tactile narratives, and reflect on their own paths of transformation. It's an open letter of who I am, where I've come from, and the roads I'm exploring.