The Weight of Things
July 7 – August 5, 2023
Opening Reception with the artist, Friday, July 7, 5-7pm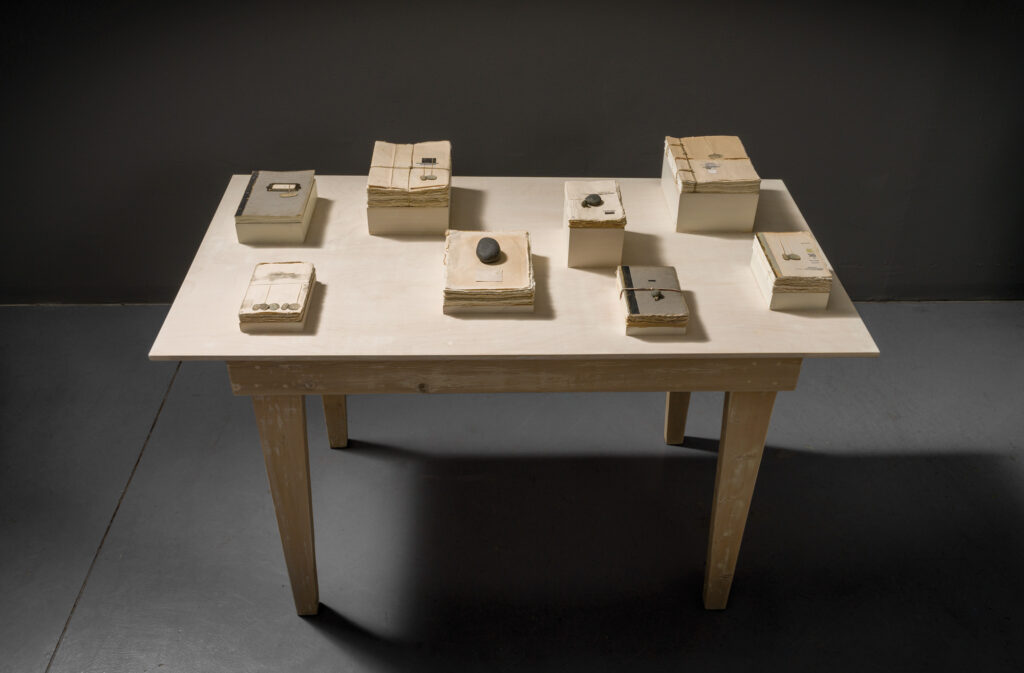 Santa Fe, NM– Chiaroscuro is pleased to present guest artist MARGEAUX's solo exhibition, The Weight of Things. This site specific installation features drawings and sculptures inspired by "hanging stones" which the artist first discovered on walks through the historic district in Santa Fe. This discovery was the beginning of a visual investigation and journey resulting in an expressive body of work with multiple layers of meaning, rendered with a strong, beautiful, aesthetic sensibility.
MARGEAUX explains:
In the quiet of the early days of Covid, I began a series of drawings based upon an encounter with a humble stone. This stone was tied to the end of a string which led up and over a garden wall. I moved in to observe it more closely and wondered, "What is fastened to the other end of the string?" The curious object sparked a series of internal questions and came to symbolize, for me, a truth at the heart of the human condition: the truth that we are all tethered to a weighted stone—perhaps one of sorrow, regret, promise, or simply the unknown.
Over time I discovered more hanging stones—70 in all. I began imagining the counterweights, collaborating with the flowering life on the other side of the wall, as a workforce. I noticed that each stone was specifically chosen and purposefully tasked. Isn't this what we all want…to be chosen for our strength and uniqueness; to perform the work we are called to do?
Each stone has a story and I feel summoned to tell it. Whereas the drawings explore images of the stones, the books, though unfilled (as I do not know the language of stone) represent the significance of their stories.
MARGEAUX is a unique artist with a strong studio practice and exhibition history, who is always trying new methods and mediums. Chiaroscuro has featured her large-scale photography printed on glass and other non-paper surfaces in previous exhibitions. Beyond her artwork she also is an accomplished cellist and was recently awarded a Master's degree in Depth Psychology from Pacifica Graduate Institute.
MARGEAUX's, The Weight of Things will run concurrently with Chris Richter's Tides & Trails, abstract painting exhibition, July 7 – August 5, 2023. Please join the artists for our opening receptions, Friday, July 7 from 5-7pm.
Please visit http://chiaroscurosantafe.com/exhibitions/
High resolution photographs available upon request;
Call John Addison at 505-992-0711 or email john@chiaroscurosantafe.com
Images posted immediately before the show at www.chiaroscurosantafe.com