Press Release June 3, 2021
Polly Barton: Dare, Revel, Dive
July 2 – 31, 2021
Public Reception, Friday, July 2, 5-7pm
Santa Fe, NM – Chiaroscuro is pleased to present a solo exhibition for Polly Barton, Dare, Revel, Dive, opening Friday, July 2 with an artist reception from 5-7pm, and continuing through July 31st. While presenting Barton's abstract weavings and works-on-paper since 2018, this will be Barton's first solo exhibition at Chiaroscuro. The show marks a decisive break from almost 40 years of working within a traditional framework, yet still pushing boundaries for contemporary innovation. The three word title corresponds to three distinct, yet connected, bodies of work including; large ikat weavings with warp designs (Dare), pastel color fields on paper (Revel), and handwoven linen paper with mixed media added (Dive), which Barton refers to as "weaving my own paper."
Barton explains, "This show spans five years and three bodies of work, none of which would be possible without the other; the four ikat banners are a departure in their political and calligraphic imagery; the pastels on paper are joyous; and the woven paper with mixed media added, are emotional and rebellious. The immediacy and satisfaction in the tender tugs at memories which surface with new materials and processes surprise and deepen my commitment to the studio and to the meditative repetition in work."
Dare consists of four large ikat "banners" which are a departure from her regular weaving practice. "Begun in 2016 on one continuous set of vertical silk threads under tension on the loom, each warp section was tied with its own distinct design and dyed into what would become the working canvas. Into and onto this surface, I painted, stained, rubbed, leaked, oozed, fussed and finessed with pigment, soy milk, sumi ink, and dye. Embedded messages, unwanted lessons, fading habits, and new materials with their surprising results began to play in my work as I felt tossed, time and again, up against that hurdle between weaving and painting. I gave myself free rein to leap into an unknown."
While one loom occupies the center of Barton's studio, calling her for hours and hours of methodical work, around the edges, pinned to soft cork like walls, are the pastels on paper, which form the Revel part of the exhibition. Barton explains, "These pastels have led to a shift in my work, a new freedom in coming to the blank paper with no constraints, no pre-patterned canvas. For years I have worked with building layers of color and patterns tied and dyed into the warp and weft of my woven work. These grids of pastel ground me to breath and being in the studio. They provide another rhythm in working as I listen to what will emerge next."
On her second loom, spun paper is woven into rectangular patterns which form the canvases for five pieces that later get reworked on top of the weaving with metal leaf, silver leaf and pastel. These works are very emotionally charged and full of life and depth, both graphic and narrative. Barton writes, "Her broad back floated on the surface, the weight of motherhood and daughterhood suspended with her breath. That hull of a back, larger than any span I might have imagined; a container of emotion larger than life—certainly than my life. The mama humpback whale I encountered off the coast of Cape Cod last summer pierced me with a sadness, a longing, and the shiver of love. I felt bonded to another creature, unprepared for the solemn wrench of grief which devoured reason. Compassion, trust, suffering, family, connections, life, loss, death, the mama humpback brought a new texture of urgency to my work."
Polly Barton is a nationally recognized artist who has been working in fiber for over thirty years. She is known for adapting the ancient Japanese weaving technique of ikat tying and dyeing into contemporary woven imagery. She studied Art History at Barnard College and has lived and traveled in Paris, Florence, Rome and India. Formative for the young artist was working as a personal assistant to Helen Frankenthaler. In 1981 she moved to Kameoka, Japan to study with master weaver, Tomohiko Inoue, living in the religious heart of Oomoto Foundation.
Barton continues to weave on her Japanese tsumugi silk kimono looms and shows her woven ikat paintings widely. The majority of her materials and media come from Japan, and an experimental attitude embodies her artistic practice. Her work has been collected by the Art Institute of Chicago, and the Museum of Fine Arts, Boston, among others. She is widely published including Hali Magazine, Fiber Arts, Surface Design Journal and American Craft. Barton is a member of the Textile Society of America and other textile organizations in the US, including locally, Espanola Valley Fiber Arts Center.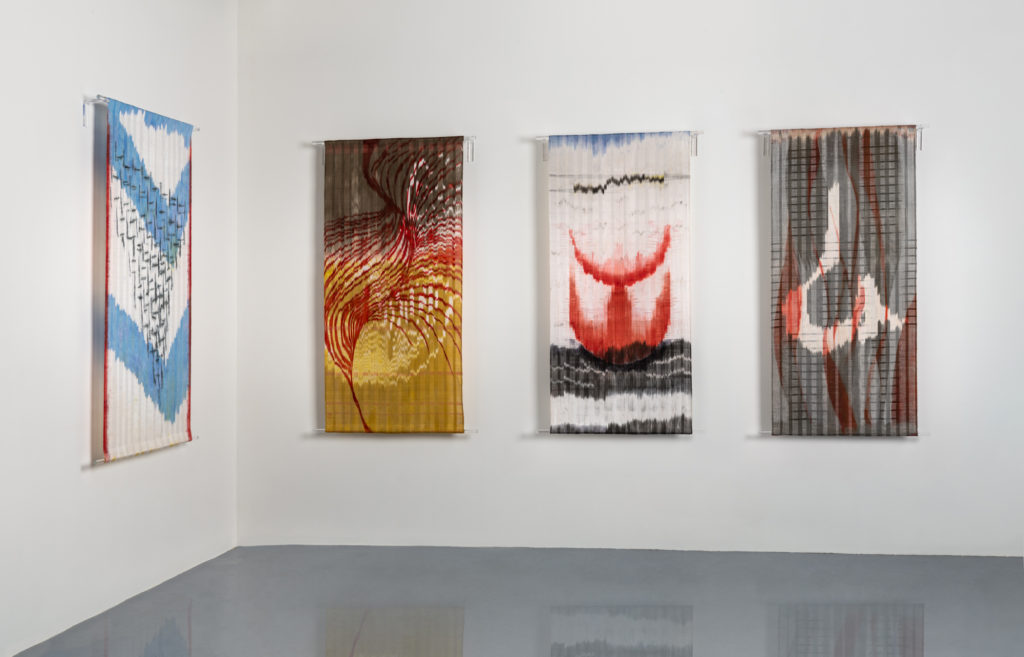 ______________________________________________________________________________
Polly Barton: Dare, Revel, Dive
July 2 – 31, 2021
Public Reception, Friday, July 2, 5-7pm
Gallery open: Tuesday – Saturday 10am – 5pm
High resolution images available upon request from John Addison, john@chiaroscurosantafe.com, 505-992-0711.