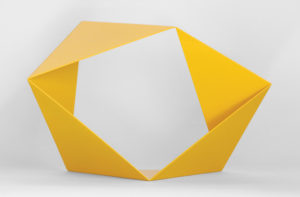 Santa Fe, NM – Chiaroscuro is pleased to present a solo exhibition by Peter Millett, titled Open-ended, on view September 13 – October 12, 2019, featuring Millet's most recent powder coated steel sculptures. Please join us for the opening reception, Friday, September 13, from 5pm to 7pm, with the artist.
Peter Millett is an established sculptor working primarily with geometric forms in steel and wood. For years his sculptures have been solid masses frequently "riffing" of triangles of varying sizes. This new exhibition marks a clear departure from older work, with an opening up of the forms and the addition of color patina on steel.
Millett explains the new work: "This work is all about possibilities. I'm exploring color, scale, and an expression of joy and movement. Leaving behind the weight and mass of the closed forms transforms these open ended works into gravity defying dances with the air around and within them."
Based in Seattle, Washington, Millett has exhibited widely over the past 30+ years and is represented in many public and private collections. This is Millett's fourth solo exhibition at Chiaroscuro.