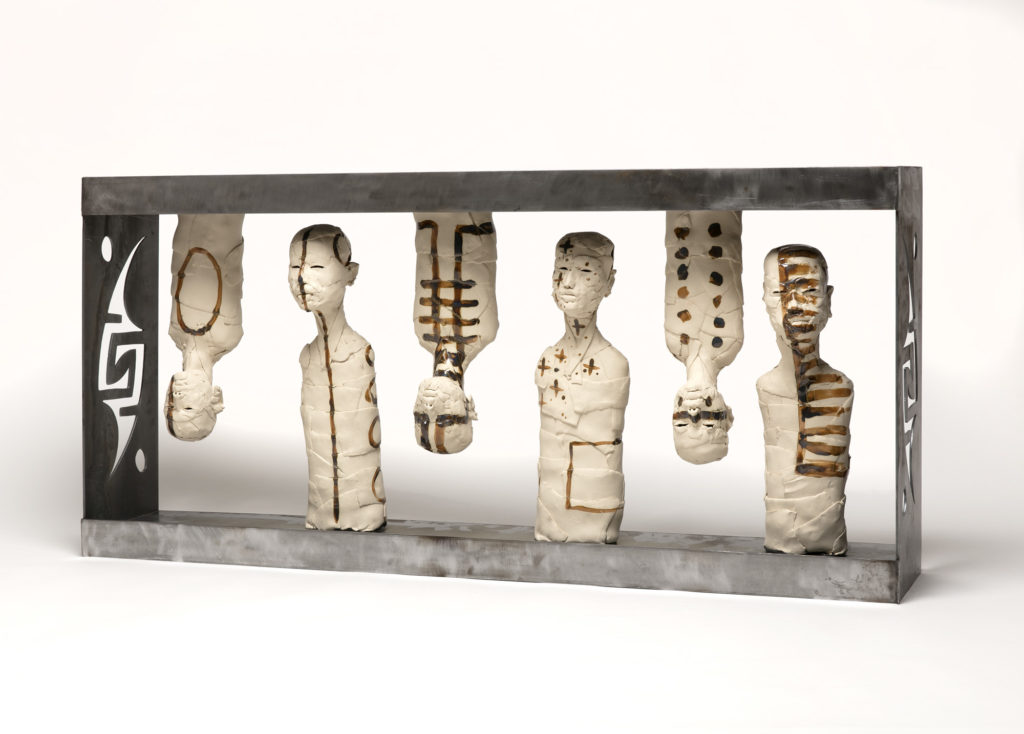 Santa Fe, NM – Chiaroscuro is pleased to present a solo exhibition by Rose B. Simpson, Brittle, on view August  9 – September 7, featuring Simpson's most recent sculptures. Please join us for the opening reception, Friday, August 9, from 5pm to 7pm, with Rose B. Simpson present. Simpson explains:
"Brittle is about structures. The structures of our postmodern human lives, social systems, physical and conceptual spaces we inhabit— and of relationships to each other (romantic, social and familial), our cultures, our thoughts, ourselves. As our human condition becomes more and more dire, it is past time to re-interpret what these structures mean— how are they useful? How must they evolve? What structures of thought could be released? What strengths can be identified, nurtured, and invigorated to help heal our realities?"
Rose B. Simpson's artistic practice is continually evolving and deepening. In early 2019 she began incorporating laser cut steel into her figurative ceramic work, and the line, color and texture of the steel became another element in her ever widening visual vocabulary. As Brittle responds to and comments on the "structure of our postmodern lives" her figures rest in this new paradigm of clay and steel. Both clay and steel are of the earth and formed with heat and pressure. The artist's hand in soft clay brings life to the figure, just as the intense heat of a cut torch outlines the forms in steel. This collaboration of materials and transformation of scale are important aspects of Brittle and open a new chapter in Simpson's artistic expression.
Rose B. Simpson (Santa Clara Pueblo) is an inventive and provocative sculptor, whose mixed media figures and objects steadily push the boundaries of contemporary figurative work. At this point in her career, Simpson takes every solo exhibition as an opportunity to explore, discover, define, and redefine, her ideas and attitudes about contemporary life. Simpsons has received a Master of Fine Arts, Creative Non-Fiction, Institute of American Indian Arts (IAIA), Santa Fe, NM; Automotive Science, Auto Body, Northern New Mexico College, Espanola, NM; Master of Fine Arts, Ceramics (Honors), Rhode Island School of Design, Providence, RI; Bachelor of Fine Arts, IAIA, Santa Fe, NM.
Current museum exhibitions include:
Wheelwright Museum of the American Indian, Lit: The Work of Rose B. Simpson. On view through October 6, 2019. Santa Fe, NM
Minneapolis Institute of Art (MIA) Hearts of Our People: Native Women Artists. On view through August 18, 2019. Minneapolis, MN
_____________________________________________________________________________
Rose B. Simpson: Brittle
August 9 – September 7, 2019
Opening Reception with the artist, Friday, August 9, 5-7pm
Gallery Hours: Tuesday – Saturday, 10 am – 5 pm
High resolution photographs available; call John Addison at 505-992-0711 or email john@chiaroscurosantafe.com