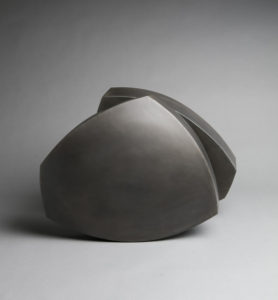 Press Release
Penny Truitt: Confluence         
May 4 – June 2, 2018
Artist's Reception: Friday, May 4, 5-7 pm
Santa Fe, NM– Chiaroscuro is pleased to open its 2018 schedule with Penny Truitt's exhibition, Confluence. Opening Friday, May 4, with a public reception from 5-7pm and continuing through June 2. The exhibition brings together Truitt's most recent body of works in steel, both wall and free standing sculpture.
A ceramic sculptor for the majority of her career, Truitt started working in steel a few years ago to challenge herself with a new material and methods, seeing where her forms and surfaces would go in the new medium. Working in steel was taking her sculpture in a new direction, redefining her relationship with form and facilitating a shift in perception.
Confluence, crosscurrents, and faultlines are words used in her titles and the pieces "work" through shifting relationships, and push and pull between the sculptural elements. All of the works consist of two primary shapes which relate to each other with form and proportion, balance and continuity. Truitt explains she's striving to "further explore the possible arrangement of components and look for various orientations that reveal the unexpected – redefining the relationship and shifting of perception."
After years perfecting glazing techniques with the Raku firings of her ceramic work, the surface and finish of steel posed another challenge. Through extensive experimentation with chemical patinas and the reactions that occur when adding natural elements, the surfaces of Truitt's sculpture are exquisite. Gunmetal matte black, textured iron oxides, and painted color highlights work in harmony to create the strong form and beautiful surface which makes up this resolved balanced body of work.
Penny Truitt has enjoyed a long productive career as a self-taught artist. Graduating from Boston University with a BA in Classical Archaeology, her studies have informed her world view and artistic endeavors. This is Truitt's second solo exhibition at Chiaroscuro.
High resolution photographs available upon request. Images posted to website shortly before exhibition opens.
Call John Addison at 505-992-0711 or email john@chiaroscurosantafe.com