Contact: John Addison, 505-992-0711                                            March 5, 2013
FOR IMMEDIATE RELEASE
Spring Thaw
Mar 30th-Apr 27th 2013
Please note: Opening Reception is Friday, April 5, 5-7pm.
Chiaroscuro presents its fourth annual Spring Thaw group show, featuring an eclectic selection of new artwork from represented gallery artists and new guest artists.  The work from represented artists includes wall sculpture by Chip Dunahugh, mixed media abstract paintings by Katherine Chang Liu, several new figurative oil paintings by Michele Mikesell from her series Freezing the Octopus.  Mikesell explains: "It is common practice in the Mediterranean to freeze an octopus prior to culinary preparation.  The act of freezing it breaks up the internal fibers and tenderizes it for consumption."  Mikesell extends the metaphor by revisiting historical events and reinterpreting the imagery for the contemporary eye.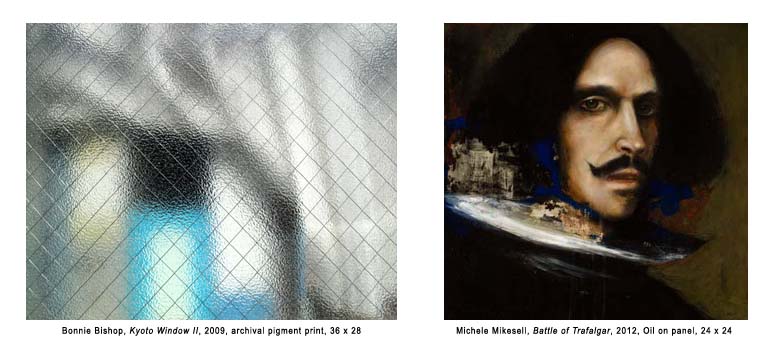 Furthermore, we are pleased to introduce two long time Santa Fe artists Colleen Drake and Bonnie Bishop.  Drake debuts a grouping of powerful large-scale gestural abstractions in blue. We discovered this incredible body of work this winter and are pleased to be the first Santa Fe gallery to show the "blue paintings."
Bishop will present large-scale color photographs of windows in which she seeks to convey "the mystery behind the parted curtain".  All part of a recent project in Kyoto, Japan, these subtle images come alive with multiple layers of color and texture, transcending the photographic medium to read as brilliant abstractions.
Spring Thaw
Mar 30th-Apr 27th 2013
Opening Reception: Friday, April 5, 5-7pm.
High resolution photographs available upon request; call Heather Doyle at 505-992-0711 or email gallery@chiaroscurosantafe.com
Location: Chiaroscuro, 702 ½ & 708 Canyon Road on
Gypsy Alley, Santa Fe, NM 87501, 505-992-0711