Contact: John Addison, 505-992-0711                                                          June 12, 2010
FOR IMMEDIATE RELEASE
Contemporary Australian Indigenous Art – Now
July 9 – August 31, 2010
Sante Fe, NM- Chiaroscuro Contemporary Art in association with Vivien Anderson Gallery, Melbourne, Australia, will present the inaugural biennale exhibition, Contemporary Australian Indigenous Art – Now. This exhibition presents new work by Australian indigenous artists represented by Vivien Anderson Gallery. The show runs July 9 – August 31, 2010. The opening reception will be Friday, July 9th from 5-7pm. Vivien Anderson as well as many of her artists have traveled from Australia to attend the opening.
The exhibition, Contemporary Indigenous Australian Art – Now, includes the senior artists of Tjungu Palya Artists, The Spinifex Mob, W.A., Gali Yalkarriwuy Gurruwiwi of Elcho Island and the Yolngu artists Dhuwarrwarr Marika and Djirrirra Wunungmurra of Yirrkala Northeast Arnhemland.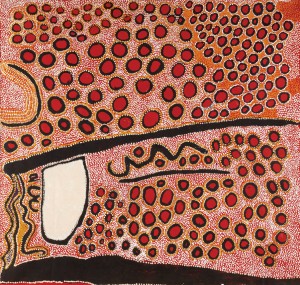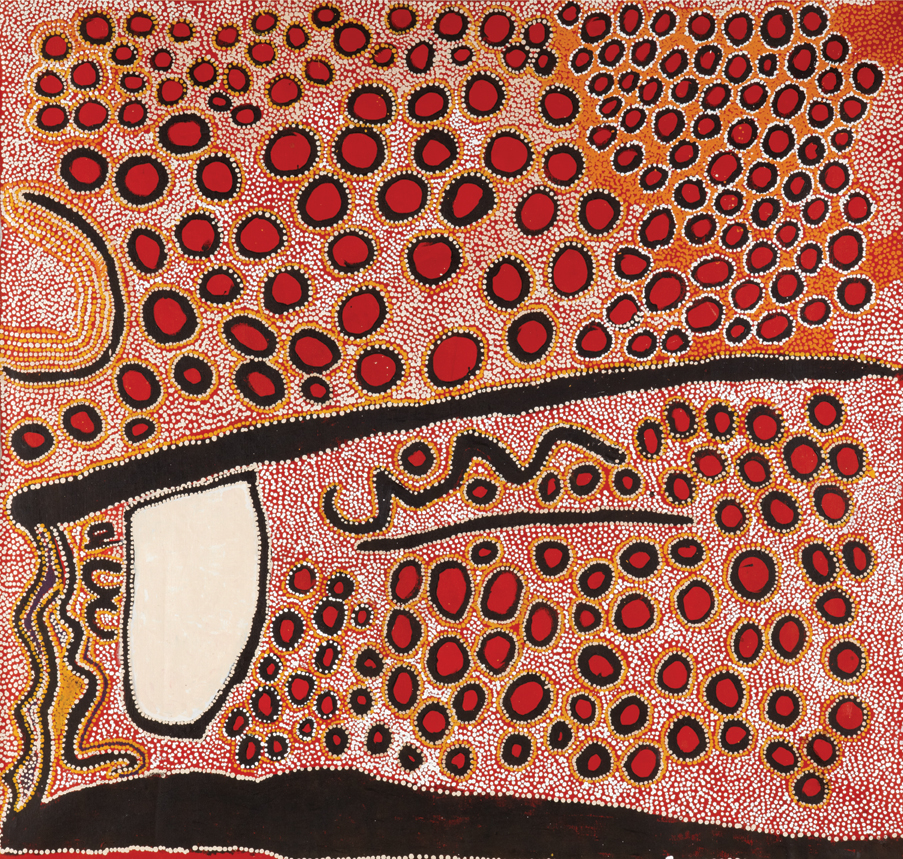 Vivien Anderson Gallery specializes in the representation of unique indigenous Australian artists. The gallery's director, Vivien Anderson, has twenty five years expertise in the field of Australian Aboriginal art. Each artist represented by Vivien Anderson Gallery is acknowledged for their original vision and a strong commitment to their work and careers, and universally share a willingness to speak their minds and commit their strong ideas to their work.
Chiaroscuro Contemporary Art occupies a unique place in the diverse landscape of Santa Fe galleries by focusing on contemporary abstraction from locally and nationally recognized artists. Within this group of forty represented artists, the largest subgroup includes work by contemporary Native American artists. These Native artists, mostly from the surrounding New Mexico pueblos, often draw from traditional forms and themes using a contemporary visual vocabulary. This new vocabulary is grounded in cultural perspectives, but expresses itself through the lens of modern life and the evolving contemporary identity of Native American artists. As a gallery at the center of this contemporary Native dialog, Chiaroscuro becomes a natural choice to introduce and present Australian Contemporary Indigenous Art to our regional and national audience
Furthermore, Chiaroscuro Director John Addison, has long held a personal interest in Australian indigenous art beginning in the late 1980s in New York with one of the first international touring exhibition Dreamings, The Art of Aboriginal Australia, launched at the Asia Society Galleries in NYC in 1988, the Papunya Tula exhibition at John Weber Gallery in 1989 and the Kluge Ruhe Museum collection at the University of Virginia.
A serendipitous meeting at Chiaroscuro Contemporary Art in 2008 between John Addison and Vivien Anderson has led to this important collaboration. One that will introduce to the Santa Fe community the most progressive contemporary indigenous art by artists living and working on their traditional homelands.
The exhibition will introduce bark paintings by Dhuwarrwarr Marika the daughter and protégé of one of the greatest bark painters and ceremonial leaders of the 20th century, Mawalan Marika. The artist herself is regarded as a senior law woman and statesperson for her people, representing them on various committees and institutions such as Land Councils and Women's groups. In 1993 she travelled to Europe as an invited speaker at the opening of the internationally travelling exhibition of Aratjara – Art of the First Australians. She is in demand throughout Australia to lecture on issues of identity, land rights and art.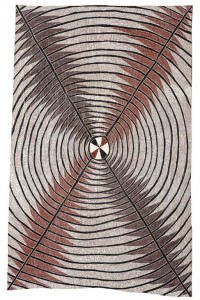 Exhibiting with Dhuwarrwarr and presenting bark paintings will be Djirrira Wunungmurra. Djirrirra Wununmurra is painting royalty; she boasts a lineage of masters, her father was the great Yangarrininy, who to many collectors of indigenous Australian art from Arnhem Land is a very significant figure in the history of art from the area. Her hand was guided by her father from a young age and her skill is evident. The subject, Tapestry of the Fish Trap is an incredible interpretation of a series of narratives that govern the relationship of all things to salt water (the Sea surrounding her homeland near Gangan).
The two dimension component of the exhibition will include works on linen by the Tjungu Palya Artists and the Spinifex Project. The Tjungu Palya Artists  lived a traditional nomadic life traveling in small family groups until the 1930's, when desert people were moved to missions- initially due to the assimilation policy of the day, but also due to terrible drought and the atomic testing at Maralinga. By the 1960's, the desire to return to their country won out as families went back to their lands establishing small remote settlements with limited infrastructure.
According to Ms. Anderson:
These artists have powerful spiritual links to their country." Their Tjukurrpa (law or dreaming tracks) is a vivid mental imprint of traditional journeys the artists' ancestors traveled, initially to accurately pin-point waterholes and food sources, but also to delineate ceremonial grounds and sacred places, where chapters within the monumental epics of the Dreamtime took place.  Their paintings express their myth cycles embedded in the topography of the land.
The resultant paintings typify the artists embrace of the modern palette, the color thrust of each canvas is balanced by an equally dynamic composition.
The Spinifex Project artists are the traditional owners of some 55,000 square kilometres of country in the Great Victoria Desert in Western Australia. Spinifex artists are enthusiastic about the way painting can record and transmit a meaningful sense of traditional ownership of their country, with paintings produced only during intense workshops in the bush. Viewed in this way the paintings are in fact a statement not just of the artists' knowledge and love of country, but of their determination to paint and articulate in a contemporary form the traditional ways, laws and paths which the next generation will follow and in turn come to hold.
Many of the artists will attend the opening on July 9, 2010 and be in Santa Fe for a week. Please call gallery to schedule interviews. A fully illustrated catalog is also available.
Artists in this exhibition include:
Maringka Baker
Gali Yalkarriwuy Gurruwiwi
Dhuwarrwarr Marika
Nublingka Simms
Kunmanara [Eileen Yaritja] Stevens
Nellie Stewart
Kunmanara [Wingu] Tingima
Roy Underwood
Nyankulya Watson Walyampari
Carlene West
Ginger Wikilyiri
Women's Collaborative
Tjaduwa Woods
Djirrirra Wunungmurra
_______________________________________________________________________
Contemporary Australian Indigenous Art – Now
July 9 – August 31, 2010
Opening reception with artists, Friday, July 9th from 5 – 7pm
High resolution photographs available; call John Addison at 505-992-0711 or email gallery@chiaroscurosantafe.com
________________________________________________________________________
Materials Matter
July 9– August 7, 2010
Sante Fe, NM- Chiaroscuro Contemporary Art presents: Materials Matter from July 9 – August 7, 2010. This exhibition runs concurrently with Australian Contemporary Indigenous Art – NOW. The opening receptions for both exhibitions are Friday, July 9th, from 5 -7pm.
Materials Matter is a group show not about a specific idea or body of work, but about how seven artists working in two and three dimensions relate to, and express themselves through, their chosen medium. From John Garrett's unique found and constructed material objects to Tracy Krumm's crocheted wire sculpture, all of the artists are accomplished technicians as well as idea-driven artists.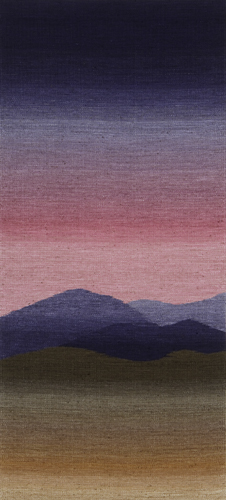 Rebecca Bluestone works in hand-dyed silk threads and weaves subtle gradations of color in both abstract design and landscape-oriented bodies of work. John Garrett's "quilts" bring together countless varieties of materials used for their texture, color, and flexibility. Most of his materials are woven or tied together, using what Garrett calls "textile technologies." John Geldersma employs large aspen poles or blocks and thick slabs of pecan to realize his contemporary "tribal" abstractions.
Kay Khan painstakingly collages small pieces of found fabric into a three-dimensional whole. Her current series explores variations on the idea of body armor, as a protective and identity-defining body covering. Her use of stitching becomes the activated line that moves your eye around these narrative three dimensional works. Using crocheted wire and heavy forged hardware, Tracy Krumm's current work delves into the relationship between feminine and masculine materials and the tension created when combining the two. Flo Perkins presents intricately blown glass flowers with flowing bronze and steel stems and petals, in her large abstracted botanical works. And Gretchen Wachs unveils a new chapter in her long-running large-scale ceramic totem series, with flowing curves and modeled surfaces.
Materials Matter will be presented in Chiaroscuro's front space, 708 Canyon Road, throughout seven rooms of varied light and ambiance.
_______________________________________________________________________
Materials Matter
July 9 – August 7, 2010
Opening reception, Friday, July 9, from 5 – 7pm
High resolution photographs available; call Becky James at 505-992-0711 or email gallery@chiaroscurosantafe.com