May 13, 2010
FOR IMMEDIATE RELEASE
Renate Aller: Oceanscapes – One View – Ten Years
Tamarind Turns 50! Recent Lithographs Celebrating Collaborative Printmaking
June 4th – July 3rd, 2010
Sante Fe, NM- Chiaroscuro Contemporary Art presents two concurrently running exhibitions: Renate Aller: Oceanscapes – One View – Ten Years and Tamarind Turns 50! Recent Lithographs Celebrating Collaborative Printmaking from June 4 – July 3, 2010. The opening reception for both exhibitions is Friday, June 4th, from 5 -7pm.
Renate Aller: Oceanscapes – One View – Ten Years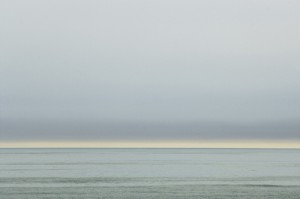 As the title states, photographer Renate Aller's series of oceanscapes, on view at Chiaroscuro this June, were all taken from the same vantage point in Westhampton on Long Island, New York. The location becomes the foundation for the body of work, and the genesis of Aller's disparate images. These oceanscapes function on both aesthetic and conceptual levels: one can bask in the sublime radiance of these shimmering photographs, as well as meditate on the expanse of time and varied topographies communicated through her prints. What also stands out is the intricate moods of the sea and sky. Like the German romantic painter Caspar David Friedrich, who Aller cites as a direct influence on her work, Aller regards the natural world with reverence. As in Freidrich's classic painting Wanderer Above the Sea and Fog, Aller captures the feeling of the solitary soul looking out with reverence upon a world of fearsome, haunting, yet oddly inviting beauty. The passage of time, the ever shifting quality of the light, and the rising and falling of the ocean's tidal swell become Aller's subjects. The relationship between sea and sky, with its ever-changing atmosphere, provides metaphor for the emotional landscape: the darkening sky, the steam off of the waters, calm and peaceful one day, angry on another, but always sublime. The photographs comprising the exhibit are titled according to the month and year they were shot, establishing the series as a chronicle of time.
Born in Germany herself, Aller now resides in the Hamptons where the images were shot. Her work is collected internationally and is included in the collection of the George Eastman House's International Museum of Photography and Film as well as the Hamburger Kunsthalle museum in Hamburg, Germany.
In addition to the photographs, Aller will be signing copies of her new monograph, also titled Oceanscapes – One View – Ten Years, on June 19th from 2-4pm. The book, published by Radius Books here in Santa Fe, includes essays by art critic Richard B. Woodward, art historian Jasmin Seck, and curator Dr. Petra Roettig of the Hamburger Kunsthalle museum. The book signing will take place at the gallery. Aller's exhibition will be on view from June 4th to July 3rd in Chiaroscuro's main gallery on Gypsy Alley.
Tamarind Turns 50! Recent Lithographs Celebrating Collaborative Printmaking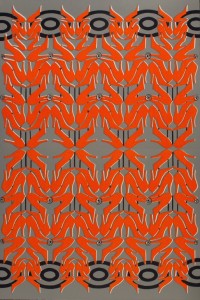 Concurrent with Oceanscapes, Chiaroscuro is pleased to present an exhibition of lithographs from the Tamarind Institute in Albuquerque. Tamarind was founded in Los Angeles in 1960 and has since become affiliated with the University of New Mexico as a part of its College of Fine Arts. Tamarind, one of the nation's premier centers for lithography, educates students and provides residencies to emerging and established artists.
Prints developed under the guidance of Tamarind's master printers will be on view in Chiaroscuro's front space, at 708 Canyon Road. The exhibition presents recent work by twelve artists, including Tom Joyce, Willie Cole, Nicola Lopez, and David Row, who are described below. The other artists include; Daniel Brice, Jim Dine, Julie Evans, Fay Ku, Mark Licari, Christine Ngyuen, Johnnie Winona Ross, and Kiki Smith.
Joyce, known primarily as a blacksmith and sculptor, brings the same elemental sense of form and shape present in his cast iron to the simple, linear and spatial relationships explored in his prints.
Cole's lithographs, like his work in numerous mediums including readymades and glass, incorporate references to the every day. His sculptural forms have included the use of shoes, irons, and hairdryers transformed into a larger aesthetic vision. His lithographs create patterns that nearly obliterate the objects that form them, re-imagining the everyday as decorative motifs.
Lopez's prints are actually a combination of lithograph and collage. Her fallen cityscapes, devoid of human presence, lean and bend with twisted pylons and beams but take on a character of their own. Her work is architectural and linear, rendered in compositions of absurd configurations.
Row's work relates to Lopez's with its twisting and bending and also, somewhat, with its spare use of color. Serpentine shapes coil and flow with the gestural feeling of characters written with ink and brush. This exhibition will also run from June 4th to July 3rd.
_______________________________________________________________________
Renate Aller: Oceanscapes – One View – Ten Years
and Tamarind Turns 50! Recent Lithographs Celebrating Collaborative Printmaking
June 4 – July 3, 2010
Opening reception, Friday, June 4th from 5 – 7pm
Booksigning, Renate Aller: Oceanscapes – One View – Ten Years, Saturday, June 19th, from 2 – 4pm
High resolution photographs available
Call  505-992-0711 or email gallery@chiaroscurosantafe.com